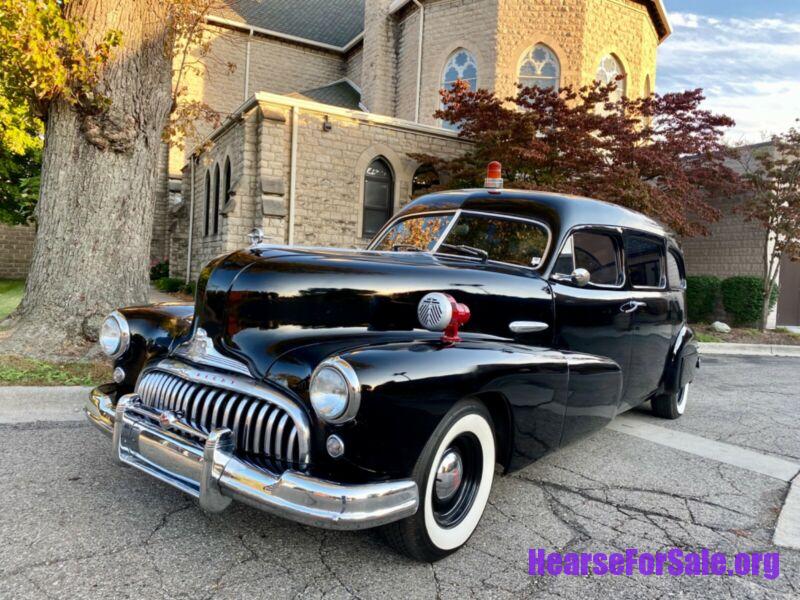 This 1948 Buick Roadmaster Hearse/Ambulance was last seen for sale for $13832.00 in New Baltimore, Michigan.
Hearse archival, NOT for sale:
Hearses for sale now on eBay!
1948 Buick Roadmaster Flxible Hearse Ambulance! This is an extremely rare Hearse with only a few known left to exist! This is the identical Hearse that Neil Young drove around to gigs for many years that was nicknamed "Mort." Neil Young has a popular song named "Long May You Run" that is about the 48 Roadmaster Hearse. This Hearse is just out of long-term ownership from a beautiful Buick collection that had about 50 classic Buicks properly stored and cared for. I shared this car with a local Hearse club and they could not believe it when they saw it. When restored it was "pro toured" with a ton of money in recent upgrades and also was driven in the 2018 Great Race that was over 1,000 miles long! It was also driven from Florida to Canada and many shows around the country. It has a healthy 455CI Big Block V8 that was bored 0.40 over. It also has power steering, 4 wheel power disc brakes, ice-cold Vintage Air, dual exhaust, 700 R4 automatic transmission, Mark V 9 inch rear end, Camaro subframe, and many suspension upgrades. Also, aftermarket working cruise control, custom odometer gauges, tilt steering, Pioneer stereo, cold air, and hot heat. This engine runs and sounds great! The engine does not overheat at all. The automatic transmission shifts through all gears nice and smooth. Of course, it is highway ready as this car rides very comfortably. The steering is nice, straight, and handles the road nicely. This car gets thumbs up and attention everywhere it goes. If you stop at the gas station you will have a crowd around it taking pictures. This is a California car which is very clean. The body is straight and looks solid. The black paint shines well and was a driver quality job that is ready to show. It was repainted about 5 years ago. It has some small imperfections and chips touched up from being driven and enjoyed but overall a real sharp car. The chrome is all nice-looking and bright. The glass is nice and was tinted. Body lines are also straight. The wheels and whitewall tires look nice and set the car off with a nice stance. The interior was all redone in a two-tone red/gray with a painted dash. The interior is nice and comfortable for cruising. All interior and exterior lights work great. The cruise control works nicely, air blows cold, gauges all work, siren works, top light works, etc. The underside looks rock solid and nice. The car was driven on many road trips and is very reliable. It has an awesome look that everyone loves. The chrome was recently redone as well. Air conditioning still blows ice cold.
This "1948 Buick Roadmaster Hearse/Ambulance" in New Baltimore, Michigan was last seen for sale for $13832.00.