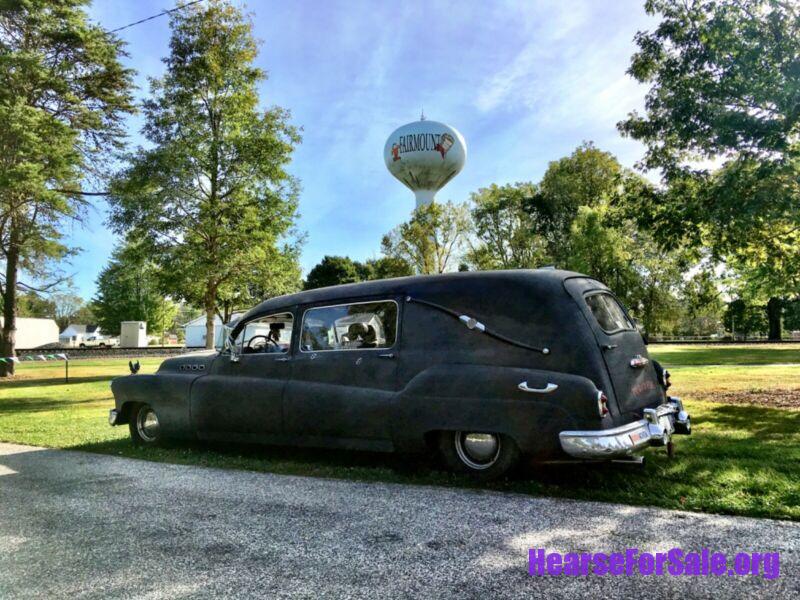 This 1950 Buick Roadmaster Hearse was last seen for sale for $12500.00 in Lebanon, Indiana.
Hearse archival, NOT for sale:
Hearses for sale now on eBay!
Buick Roadmaster Flxible combination (hearse/Ambulance). A few videos from last 8 years on youtube "the black pearl 1950 Buick" search. I consider this as a "Ratrod" style Hearse. Although it retains most of its original parts, except the interior. The interior needs to be finished. It has had the front floors repaired and 8′ 4″x4″ treated wood posts now serve as rocker panels, no other rust other than undercarriage surface. Also has had three side windows professionally filled. Same owner for 37 years. Stored inside since 1990, has not seen rain or snow since. Complete modern power brake system with all lines and hoses/wheel cylinders having been replaced. Engine gaskets were replaced too. The Dynaflow transmission and torque tube have the usual fluid leaks but have not gotten worse in the last 37 years. Just add a little fluid once or twice a year. Needs painted up the way you want, or drive as is with the flat black epoxy primer. Buick LeSabre power seats (they work) and GM minivan rear seats. All leather. Electric cooling fan, and windshield wipers. Side windows and rear windows are heavy plexiglass. Windshield is original and good shape.

One small chip that has not changed since 1983. New High torque mini starter fires up the inline 8 easily.Newer 4 barrel carb ( on 2 to 4 barrel adapter )with manual choke. New gas tank. The mileage is accurate. Shows on the title as "30,000 actual miles" ( That is from 1983. I have run it up to 53,500 in 37 years.) The tires have excellent tread. Some NOS and re-chromed bumper/grill parts. A lot of it except the main bumpers. They are pretty nice for 70 years old.12-volt electrics. Electric fuel pump too. New heavy cast manifolds were installed 25 years ago, and they still have not cracked! ( as all the original, thinner-walled 3 piece manifolds (exhaust) did. Dual exhaust ( straight pipe split into two tailpipes ). Drives fine down the highway at 55-65 mph. Lights and gauges work ( not original gauges)Has been sitting almost a year now but I will have it ready to drive on to a trailer. With 5 Gallons of fresh fuel, it is almost empty now. Should make it fine a few hundred miles on her own but would trailer any farther than that ( as with any 70 year old car.)This is not something you can put back to original. The parts are simply not out there, or reproduced. It is just something to put your own style, or touch to.
This "1950 Buick Roadmaster Hearse" in Lebanon, Indiana was last seen for sale for $12500.00.