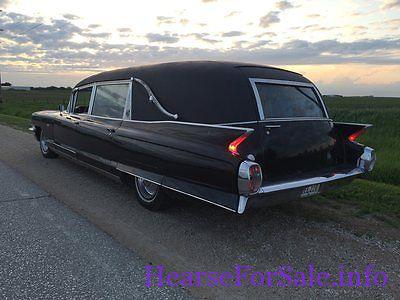 Hearses for sale now on eBay!
This 1962 Cadillac Hearse by Miller Meteor, "Morty" from Degrassi, was last seen for sale for $11500.00 in Des Moines, Iowa.
"Morty" from Degrassi
Hearse archival, NOT for sale:
You MUST be religious because your prayers have just been answered! This 1962 Cadillac funeral car is your dream come true. Gloss black, wicked fins and chrome as far as the eye can see. Your wife will hate you if you score this awesome ride without checking with her first, so if you haven't, stop reading, go ask her if it's okay and THEN come back to drool. This is a TRUE traditional end loader survivor in original condition, I am the fifth owner and have all the paperwork dating back to it's original home at the Brenan and Sons Funeral Home in St. John, New Brunswick, Canada. It spent time as a Newfoundland Salvation Army Hearse, then went to two private owners in the area before I brought it down here to the Midwest. Title, registration and all paperwork are all clear and current. This 1962 Cadillac hearse was also used as the infamous "Morty" in the DeGrassi TV series, although the first thing I did when I got it was to switch the landau bars back to their correct placement. The pictures say it all. The engine and transmission of this 1962 Cadillac hearse run and shift FANTASTIC, which is rare for a hearse of this vintage.

It has 32,865 miles on it and I'm willing to bet that the engine has not turned over based on the condition of the engine. This is the 14th hearse that I've owned (all fifties and sixties Caddy's) and I know these engines pretty well. You can drive this home easily, but with all old cars, flatbedding it really is the safest way to go until you get a chance to go through the engine with your own mechanic. Although it runs like a champ, I would replace the water pump and exhaust manifolds before you do any real road trips. All the electrical works with the exception of the wiper motor. Gauges work fine but I'd replace the sending unit in the gas tank at some point as it wavered a lot after I filled the tank. Tires and original hubcaps are in great shape and the hearse comes with a new spare on the original riveted wheel like all commercial coaches have. The original commercial chassis jack is included as well. The green and tan interior is a gem and is in beautiful shape! Headliner is immaculate as are all the door panels, sconce walls, wheelwell shelves and carpeting. The velvet benchseat is starting to fray at the corners but is entirely serviceable. Curtains are all original and in terrific shape as is the original chrome and stainless fixtures and trim. All the chrome trim (inside and out) is there, including the two drivers side lower skeg molding pieces which are not attached. All flat glass, windshield and rear door glass are immaculate. The body and paint is what you'll have to address if you want a show car, but some folks like the "winter patina". Original crinkle top is good, but worn in places. There is some rust on the lower rocker areas and you'll want to replace the floor pans in the drivers compartment. I have sources for both sides of the front fenders and rear quarter panels and will gladly give those to the buyer if you'd like to replace them. Ideally, the bumpers will need to be rechromed and I'm including a full front and rear bumper from a 1962 Coupe DeVille as part of the deal so you can choose the best pieces. The rear bumper extension pieces on the hearse are in great shape. Also included is a hood insulation pad, a '59 to '64 fan shroud, set of original bier pins and an original 1962 Cadillac owners manual.
This "1962 Cadillac Hearse by M&M, "Morty" from Degrassi" in Des Moines, Iowa was last seen for sale for $11500.00.