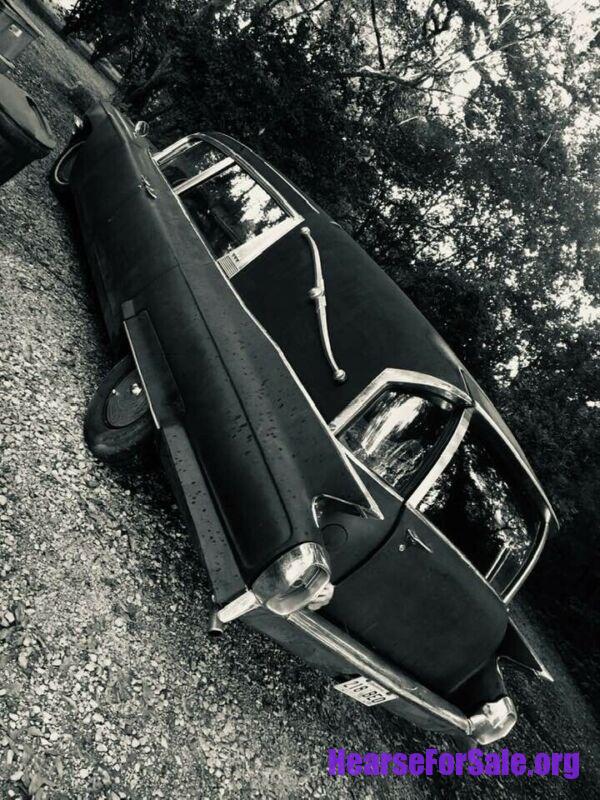 This 1962 Cadillac Superior Hearse was last seen for sale for $8400.00 in Lafayette, Louisiana.
This hearse is a rare beauty but the roar of the engine is a pure beast! This is a 1962 Cadillac Superior hearse with rebuilt 390 ci original Cadillac engine with matching serial numbers that is a "trimatic" or 3-way loader. "Helcat Hearse" runs superbly. This has been my daily driver for the last seven years as I've worked to rebuild her. She has many many upgrades and custom work including but not limited to: Custom-designed fangs reupholstered on the front seats. Rebuilt original 1962 Cadillac 390 ci engine Edelbrock 600 carburetor Edelbrock chrome air cleaner4 Starburst style chrome hubcaps. New custom accelerator pedal and cable. Additional upgraded electric fuel pump Original radiator has been cleaned professionally and pressure tested. Custom painted engine and engine compartment. Underside of hood custom paint job and Skull decal Pioneer bluetooth stereo with remote, 2 Kicker CS67 speakers, 2 Alpine speakers. I have 3 of the original Cadillac hubcapsRecently had major tuneup and oil change Transmission has new filter. New hornGauge box with gauges.

Custom door panels and back panels. Tongue and groove wood custom cut and stained for the back of the hearse is available with hearse. It's currently carpeted black. This is a "trimatic" or 3 way loader with suicide doors. I have over 25 K invested in this hearse not including the initial cost to purchase it and get it running. Of course to ship a 5,670 pound hearse cross-country isn't cheap either and thousands more invested in work that was done by skilled mechanics who helped along the way. Original Cadillac seats were reupholstered with custom-designed fangs.There is some lightening of the upholstery on front seat in one spot. I have lap seatbelts for the front seat and also extra seatbelts for the two bench seats in the back should you choose to put the seats in the back.. The hearse has beautiful chrome landau bars on the outside. I paid to have the top of the hearse rhino lined when I first purchased her to protect from rusting. Bodywork was done and the hearse was primed black then 3 weeks later a tow truck made minor damage to the front left side of the hood and left driver's side fender. Otherwise, the body is in great shape. The dash and gauges look impeccable but the very top of the dash needs some TLC or a simple dash cover. I took down the original vinyl headliner with the boning in it. The hearse doesn't have a headliner up but I do have the headliner. The back and front of the hearse is carpeted black. I have panels on some of the doors and the ones that aren't on there are being rewrapped. Glass windshield is original and is in amazing shape. All glass windows with the exception of the driver's side are in great condition. Driver's glass has a line through it even though it is brand new. A new glass cut for the front door is $59.00. I believe the window regulator needs adjusting. All cigarette lighters work therefore phone chargers work. There are so many upgrades and extras to list. Don't let this one-of-a-kind classic getaway! She's a beautiful beast that was built to live forever. "Helcat Hearse" was a service vehicle for ten years before she retired form carrying the deceased to chauffeuring the living in style. Total production for 1962 production Cadillac's was 160,840 but, only 2280 Professional Coaches were built on the Cadillac Extended Chassis for ALL Coachbuilders making this a rare car indeed.
Hearses for sale now on eBay!
This "1962 Cadillac Superior Hearse" in Lafayette, Louisiana was last seen for sale at $8400.00.