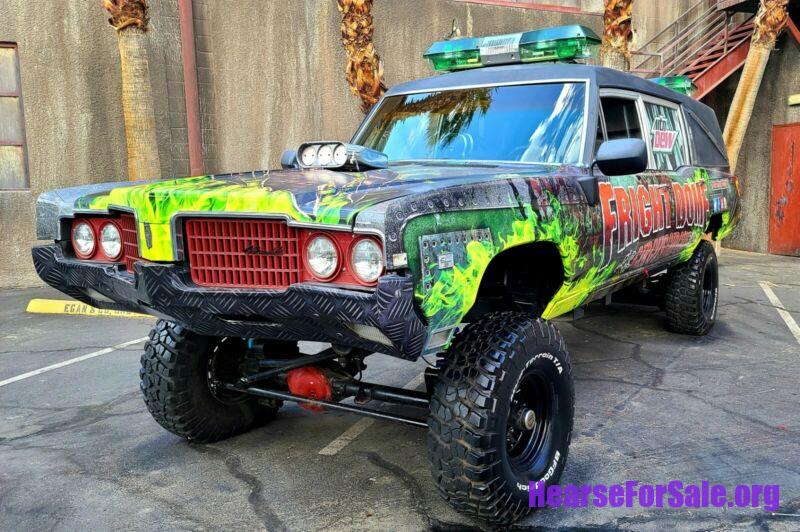 This 1969 Oldsmobile Hearse, Big Foot Style was last seen for sale for $18995.00 in Las Vegas, Nevada.
1969 Oldsmobile Hearse that was built for the television show "Ultimate Car Builds" on Discovery Channel. We purchased it and did further modifications and additions for our Halloween Event. · 455 V8 (rebuilt) · New interior · Polished chrome · Emergency green police bar lights – 2 full sets · New exhaust (beautiful rumble) · New Tires (BFGoodrich) · New Transmission · Custom rims · Custom Painted Grille · New door panels · Custom Suspension · New Shocks · It was built for 4-wheel drive however we took it out as we had no intention of off-roading the vehicle. It could still be hooked up. · New alternator · All new brake system including booster · New plugs and wires · Black Paint under wrap · Raised Significantly in Height · Over 40k invested (all professionally done/no expense spared) Big Racing Tachometer Power Driver's Seat. Side Windows have been replaced with Plexi and don't go up and down. With the exception of the drivers glass window. The front and Rear Windows are factory. Has Racing Seatbelts.

It was hooked up for NOS but we removed that after the rebuild of the engine. We used this vehicle to take to events to gain massive attention. Someone can pick this up extremely inexpensive as we are not using the vehicle for an event this year. New owner has to agree to snipe the existing logo from wrap with their own since the logo of the previous Halloween event is on the vehicle. The existing wrap can be used, we will require logos are removed. When the wrap is removed, it will remove paint. When we changed the wrap for a refresh it do remove paint. Therefore, If you decide to not keep the wrap, you would need to be prepared to repaint or re-wrap the vehicle. We would suggest re-wrap as their are so many amazing things that can be done with a wrap for a fraction of the cost of painting. -Many Celebrities have rode inside or taken a photo with the vehicle. -Featured on Discovery Channel and many News outlets. -Stored inside for the past 8 years -Excellent condition when we acquired the hearse in CA with no rust ever! Important Note: This is not a cross-country driving vehicle. It has a small racing fuel gas tank and was designed for short distances.
Hearses for sale now on eBay!
This "1969 Oldsmobile Hearse, Big Foot Style" in Las Vegas, Nevada was last seen for sale for $18995.00.